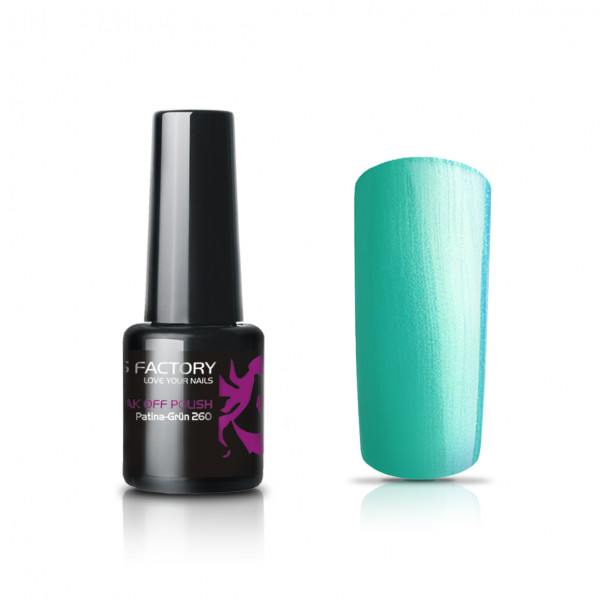 UV Nail Polish Patina Green 8 ml
Product information
UV Nail Polish Patina Green 8 ml
This premium nail-protecting UV Nail Polish comes in an 8 ml lightproof bottle with a brush applicator. UV Nail Polishes, also known as Soak Off Polishes, can be cured using both LED and UV light. The NAILS FACTORY UV nail polish is simply applied to the natural nail. It lasts much longer without chipping than regular nail polish and is just as easy to apply.
It is long-lasting like a gel (up to 2 weeks), dries quickly under a UV or LED lamp, and guarantees high colour intensity as well as a smooth surface. Soak Off nail polish is easily removed with Soak Off Remover (similar to nail polish remover). It is highly versatile and adapts perfectly to your preferred style.
Features:
Scratch-proof
Lasts up to 2 weeks
Cures under UV or LED light
Removable without solvent or causing damage to the nail
6 ml content
Application:
1.) Nail preparation
Start by manicuring the nail and filing it into the desired shape.
Push back the cuticle and use a cuticle remover if needed.
Slightly roughen the nail surface with a nail buffer.
Remove the dust and wipe the nail with nail cleaner.
2.) Base coating
Apply a thin layer of Base & Top Coat to the nail.
Cure the Base & Top Coat layer.
Do not remove the dispersion film (sweating layer).
3.) Applying the UV nail polish
Choose a colour and apply the UV nail polish on top of the base coat and cure again.
Apply an extra layer for higher colour intensity.
Do not remove the dispersion film (sweating layer).
4.) Sealing the nail
Apply another layer of the Base & Top Coat to seal the nail.
Cure the Base & Top Coat layer.
If there is a dispersion film (sweating layer) on the nail, remove it with a cellulose pad and some nail cleaner for a shiny finish.
5.) Nail care
Rub some nail oil into the skin around the nail.
Curing times:
UV lamp: 120 seconds
LED lamp: 60 seconds
Shipping time/cost
This item will be delivered in:
We ship with:

Free shipping for orders over 70 euro*
*Applies only to deliveries within Germany. For orders within Germany under Û70, a shipping charge of Û5.90 will be applied. Shipping costs to other countries can be found here .
If you place your order and pay for it by 11 am on a weekday, 99% of the time we will be able to ship it to that same day and it will arrive the next day. Delivery times may vary on public holidays or to more remote regions.
We can also send your package to a DHL office or Packstation. Simply select this option for your shipping address and provide the required information to ensure smooth delivery.
Payment options
Please note that certain payment options are only available after a credit check with an external service provider. For more details, see our Terms & Conditions and under Payment & Shipping.
On occasion, the choice of payment method can affect how fast your order is shipped.
Help us and fellow customers by sharing your experience.
Reviews will be published once verified.