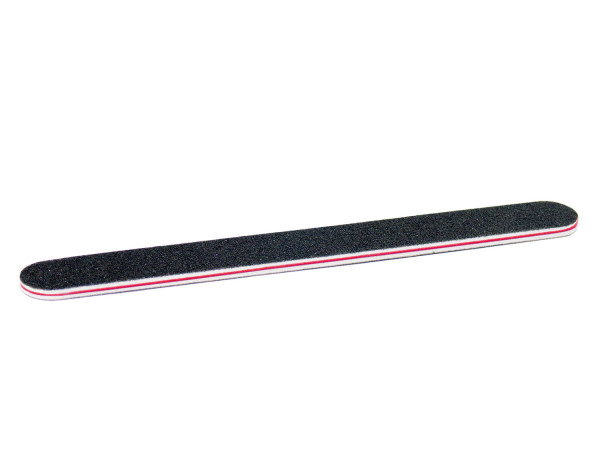 Set of 10 Professional Nail Files Straight Black
Product information
Set of 10 Professional Nail Files Straight Black
The NAILS FACTORY Professional Nail Files Straight are an ideal aid for professional nail modelling. Our straight nail files are high-quality tools that can be used on a daily basis. They will make your work much easier. They are made of high-quality sand paper with a 100/180 grain size. The high-quality sand paper ensures that your filing work is consistent and achieves amazing results. The Professional Straight Nail Files Black can be washed and disinfected.
Delivery includes:
Set of 10 Professional Nail Files Straight Black (Grain Size 100/180)
Tip: The lower the grain size, the coarser the file and the finer the result.
Features
Körnung 100/180
Farbe: Schwarz
2-seitige Körnung
Tipp: Je niedriger der Körnungsgrad je gröber wird das Feilergebnis, je höher je feiner wird das Ergebnis.
Shipping time/cost
This item will be delivered in:
We ship with:

Free shipping for orders over 70 euro*
*Applies only to deliveries within Germany. For orders within Germany under Û70, a shipping charge of Û5.90 will be applied. Shipping costs to other countries can be found here .
If you place your order and pay for it by 11 am on a weekday, 99% of the time we will be able to ship it to that same day and it will arrive the next day. Delivery times may vary on public holidays or to more remote regions.
We can also send your package to a DHL office or Packstation. Simply select this option for your shipping address and provide the required information to ensure smooth delivery.
Payment options
Please note that certain payment options are only available after a credit check with an external service provider. For more details, see our Terms & Conditions and under Payment & Shipping.
On occasion, the choice of payment method can affect how fast your order is shipped.
Help us and fellow customers by sharing your experience.
Reviews will be published once verified.